Besides being a Distinguished Flight Instructor (awarded by AOPA), Peg Ballou is an FAA Safety Team volunteer, presenting safety seminars locally and at AirVenture in Oshkosh since 2010. She was the Cleveland office FAA Safety Team Representative of the Year 2018.
Peg has been involved with EAA giving Young Eagles flights, and is an Airport Support Network volunteer with AOPA, as well as a member of flight instructor professional trade organizations NAFI, and The Ninety-Nines (International Organization of Women Pilots) and Women in Aviation.
The first solo is a celebration! For the first time, a student pilot flies alone. We ceremonially "cut the apron strings" by cutting the shirt tails of the pilot. This fun tradition dates back to the days when a student pilot couldn't see the instructor in the rear tandem seat, so received instructions through tugs on the shirt. These are decorated by the instructor and displayed in the airport office, and returned once the private pilot rating is earned.
Many other students have passed through Ballou Skies facilities, including some into college programs, and some on to the airlines. Let us help you along the path you want to travel. Contact Peg today to discuss how to begin.


Sam B. earned his private Pilot certificate in March of 2018.

Ruth soloed June 16th, 2018. Ruth was the only student I have had who had a "stowaway" on board- twice – Sons Benjamin and Andrew, born long after the solo.
Eric (below) soloed in June 2018 AND scored an amazing 100% on his private pilot written test! He is a dedicated pilot with instrument and commercial ratings. He has since achieved the multi-engine add-on AND rotor (helicopter) ratings.
And many more…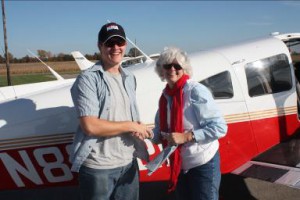 Flight Instruction or Discovery Flight, achieve your dream!
Contact us for a consultation to discuss and get an estimated price on your training. package.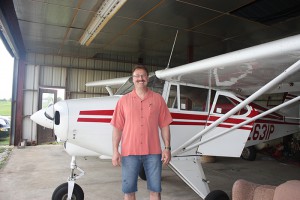 We seek to keep costs down, but they vary depending on the time and effort dedicated to the process. We give you options and a fair value.