Located at Bucyrus airport, Ballou Skies Aviation is operated by certified flight instructor Peg Ballou.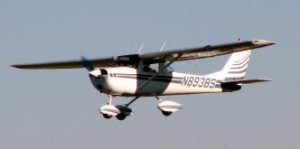 N8938S is a Cessna 150, a very popular and economical two seat trainer, called "the plane that taught America to fly." It is more weight and space sensitive than the 172, working well for smaller pilots under 180 pounds, although others have successfully done so.
Cessna 172 N20058, is a roomier aircraft with great instrumentation. Either work well for Private Pilot or Instrument instruction. This is a great option for two-pilot family instruction in a Study Buddy approach. One pilot flies, one observes, cutting the time down for overall instruction and splitting costs.
Our hangar is conveniently located at Port Bucyrus- Crawford County Airport with easy access to both blacktop and grass runways. The required FAA written test can be taken in a nearby test centre.  Instructional hands-on flights  include trips to non-towered fields and nearby towered Mansfield (Class D) and  Toledo (Class C) airspace.  The Ballou Skies flight education program is well rounded with a good understanding of the "What- Why– Hows" of aeronautical principles, not just a rote performance of inputs. Aviation is a thinking sport, and we encourage you to consider the cost  in time, energy and effort, as well as financially.
Peg is a 2015, 2017, 2018 , 2019  and 2021-22 AOPA Distinguished Instructor Award winner, based on reviews and customer satisfaction from previous students. She is also an FAA Safety Team volunteer,  presenting safety seminars locally and at AirVenture in Oshkosh since 2010. She h
as been involved with EAA Young Eagles giving Discovery Flights, and is an Airport Support Network volunteer with AOPA, as well as a member of professional trade organizations NAFI and SAFE, and women pilots organizations The Ninety-Nines and Women in Aviation.
Technically Advanced airplane instruction for COMMERCIAL And Flight Instructor ratings are available. No longer must the applicant have ten hours and complete the checklist in a retractable gear, variable pitch (complex) airplane, although that is still one of the options. Our Piper Archer satisfies the technically advanced airplane option due to her advanced avionics and instrumentation.
So, at Ballou Skies Aviation, one can go from first flight to full instructor. The first step starts with a Discovery Flight. Call today to book your adventure.